Theatre in the Park Temporary Art Installation
"Cloud Cover" by Chris Dahlquist - Unveiling: June 2, 2023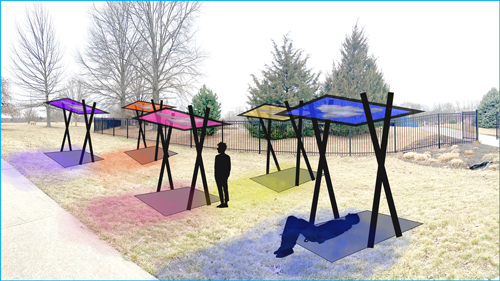 ARTIST STATEMENT
From watching The Wizard of Oz, Annie, and many other musicals in outdoor theaters as a child, to cheering for my musician husband as he takes the stage, live performances hold a special place for me. I still recall those humid summer evenings with the sound of cicadas and the taste of lemonade shared from a thermos with my grandparents, whiling away time before the show begins, until finally twilight slides to nightfall and colorful stage lights illuminate magic. It is with these slow memories and the hunger for the child-like ease of summer that I create Cloud Cover.
This photographic sculpture is a surprising play on perspective, giving a colorful greeting to visitors to Theatre in the Park and the nearby trails. Using photographs of clouds printed on bright acrylic suspended overhead, Cloud Cover celebrates the intersection of the colored stage lights and the open skies intrinsic to the park. It provides a fun and engaging respite from the sun while inviting viewers to lay back, look up, and slow down. Working in concert with the site-responsive sculpture is an additional invitation to the community, Cloud Cover Bingo, a game to be played while enjoying the park or waiting for a show to begin that educates and rewards awareness of the clouds abundant in our Midwestern landscape.
My photographs are works of fiction based on true stories – a distillation of collective memories and inner dialogues – fewer fireworks but more daydreams. Working at the nexus of analog processes and contemporary technology, I combine photographs with unconventional materials and utilize layers, textures, shadows, and viewing angles to expand the story the photographs tell and transform the audience's encounter from visual to experiential. Each photographic object I create is singular; the materials, handwork, and image combine to form an original object that lives outside the world of reproduction, each as unique as a singular cloud.
- Chris Dahlquist

ABOUT THE ARTIST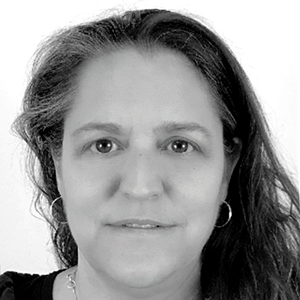 Since 1998, Kansas City based visual artist Chris Dahlquist has exhibited extensively throughout the United States. Committed to the accessibility of art, Dahlquist exhibits in traditional and non-traditional settings and creates large-scale public installations allowing audiences to encounter and interact with photographic objects in unexpected ways. Dahlquist's works are held in many individual, corporate and civic collections, have won countless awards across the country, and grant funding from Mid-America Art Alliance, Metropolitan Kansas City Arts Council and Anonymous Was a Woman. Dahlquist is represented by Sager Reeves Gallery and Olson-Larsen Galleries.
In addition to her studio practice, Dahlquist brings her passionate pragmatism to a community practice helping artists build sustainable careers. Using curriculum development, workshops, lectures, community building, and one-on-one mentoring, she has worked with hundreds of individual artists of all disciplines to develop strategies and business skills to support their practices.

Through personal experience, stories of hundreds of artists she has worked with, and a guiding principle that the artist must be at the center of a strong arts ecosystem, Dahlquist also works with municipalities, organizations, and businesses to develop strategies, programs, and policies to support individual artists. Most notably in this role, Dahlquist partnered with Kansas City, MO, the Kansas City Economic Development Council, and AltCap: Alternative Capital for Community Impact to develop and launch the first artist-centered micro-lending program in the country and created the Creative Economy Initiative for Bravo Greater Des Moines, a comprehensive action plan for the support of individual artists living and working in the Des Moines area. Currently, Dahlquist is developing Gillis Corner, a mixed-use property, exploring models of real property ownership that allow artists to be equity stakeholders in the neighborhoods they are improving. IG: ChrisDahlquistArt | FB: Chris Dahlquist Studio

Project Overview
Theatre in the Park (TIP) is located on 10 acres in the northeast corner of Shawnee Mission Park. Each summer, Theatre in the Park presents five popular Broadway-style musicals with casts featuring actors from the surrounding community. The season welcomes over 26,000 attendees over the course of a summer, culminating with Evening in the Park, a free summertime party featuring live music and a movie. As an added feature to Theatre in the Park, a temporary public art project will be installed to create a fun, interactive, and magical component to this much-loved community tradition.

The goals for the temporary public art at Theatre in the Park are to:
Engage visitors of Shawnee Mission Park and attendees of Theatre in the Park with an artwork that is fun, interactive and/or participatory.

Create a sense of magic in the park and around Theatre in the Park that can be enjoyed during daylight and evening hours. Artists are encouraged to incorporate lighting as part of their design.

Create a piece that is site specific and inspired by the usage and visitation.

Provide opportunities for local and regional artists.